Five Proposal Ideas Just for Barcelona
Posted:
Proposal ideas unique to Barcelona.
Barcelona is a romantic haven. Her narrow medieval streets and imaginative, monumental architecture make this city an incredible place to get married, to celebrate your last nights before your wedding, and to propose marriage. Here are some of our best proposal ideas for this beautifully unique city.
The Top of Tibidabo
The view from this mountain behind Barcelona is gorgeous. Your girl will never forget what it was like when you got down on one knee overlooking a Mediterranean metropolis to ask for her hand in marriage.
Photo by Veronica Hansen Photography. For our blog post on wedding and engagement photographers, click here.
Getting there
For this proposal idea, start at the metro stop Plaza Catalunya. From there, take the L7 train about ten minutes to Av de Tibidabo (it'll drop you in Plaza de John Kennedy) right next to the appropriate bus stop at 2 Avenida Tibidabo. The bus will take you to the Tibidabo Funicular railway. You have to buy Tibidabo funicular tickets at the station before you go, but the funicular will take you right to the top of the mountain! (For more information on getting there, here's that page on the Tibidabo website)
Once there, enjoy the Temple Expiatori del Sagrat Cor, take a look at the amusement park, and pick the view you want for your moment alone.
---
Sagrada Familia
Sagrada Familia is the spot for this proposal idea. But make sure to bring a friend so they can take photos of you in this unbelievably beautiful setting!
Our recommendation: get tickets for the tower tour at Sagrada Familia and ask her at the top.
Photo by Cesc Giralt. For our blog post on wedding and engagement photographers, click here.
---
Barceloneta Beach
During the summer, it's best to pick your time early in the morning so that you beat the beach crowds. But in winter or late fall, odds are that you'll be able to find a spot to be alone on this famous beach without too much trouble.
Our recommendation: follow your proposal with paella dinner at one of the best restaurants in town. We like Can Sole for its excellent paella.
---
Montserrat
One hour (approximately) outside of Barcelona city center, this monastery in the mountains is a gorgeous setting. Our recommendation: go out past the dining areas and down the stairs behind them until you come to the most breathtaking view.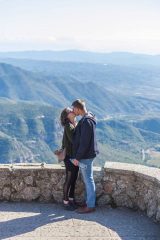 Getting There
From Plaza Espanya metro station, take the R5 towards Manresa. After one hour in the train get off at Aeri to take the cable car or Cremallera to ride the rack railway up to the monastary. For details and train schedules, check the Montserrat home page here.
---
Ciutadella Park
This gem of a park is right in the center of Barcelona. If you were planning to treat her to a picnic or to follow your engagement with a photo shoot, this is an easy place for other people to meet you.
Our recommendation: go to the fountain for this proposal idea to get the most beautiful view.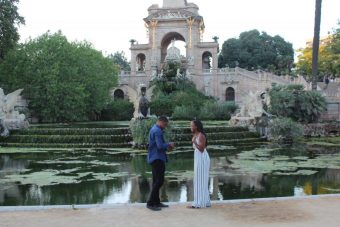 ---
There you have it! Some of our favorite proposal ideas just for Barcelona. This is a fabulous city for any occasion, so if you want to know more about some of the activities here, click this link.
For more tips for your proposal, here are our blog posts on the proposal speech and other creative proposal ideas.
Finally, once you're engaged, you'll need to plan your hen and stag parties–that's our specialty, so check out our web page and don't forget to look at our blog for Barcelona photographers, wedding dresses, and more!
Good luck!
-Cheers!
Travel Bar
Anna Shoffner is a staff writer for Travel Bar, the Barcelona company that specializes in hen and stag weekends, offering Barcelona's best tours and experiences. To see Travel Bar's hen packages, tours, and activities, visit us at www.travelbar.com.