Stag Activities Series: Adrenaline Junkie
Posted:
Stags ask us all the time: What are the best stag party activities? We're experts in the Barcelona stag party. In our Stag Activities Series, we're compiling lists of different types of stag activities for your stag weekend. Enjoy!
The Adrenaline Junkie
You know him, the guy with a parachute-sized twinkle in his eye. He just got back from running across Australia carrying skis, a kayak, and his dog, stopping only to wrestle alligators and battle kangaroos. . The Rock fears him, Chuck Norris respects him, and now he's getting married. What activities should you have in his stag party?
Spain Games
You'll want to start with humor and adventure. Unique to our company in Barcelona, this two-hour excursion is the hottest new activity Europe-wide. Travel Bar staff will take you and your fellow stags to compete against each other in a variety of crazy games. These include a wipeout machine, podium fighting, sumo wrestling and a giant slide. Transfers to and from the Barcelona city centre, as well as snacks, drinks, and beer are all available upon request.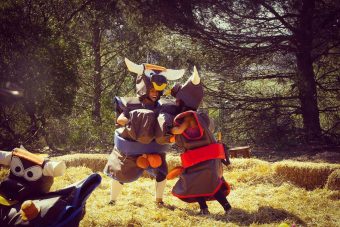 To add this to your stag package, check out this link.
---
Paintball
The adrenaline junkie stag definitely needs a little friendly paintball competition. There's only one question. Would you rather compete against your fellow stags in the abandoned Spanish village, the Jungle, or the camouflaged battle fields?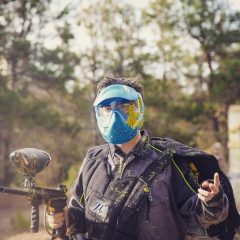 To add paintball to your package, click here.
---
Bubble Football
Friendly competition can only get more intense when you add man-sized bubbles.
Click here to add bubble football to your stag weekend package.
---
FC Barcelona Tickets
Barcelona is home to one of the best football teams in the world. There is little that is more manly and exciting than watching a game. Let us treat you to some tickets when you add it to your stag weekend here.
---
Yacht Sailing
Hey, didn't your adventuring stag just get off a boat from somewhere? Make him feel right at home by taking him sailing on a yacht in the Mediterranean. Bar included.
To add a yacht charter to your stag weekend, click here.
---
Kayaking and Snorkeling
Take your stags on an adventure along the Mediterranean coastline. Here, they'll kayak and then swim among the fishes–bring your wetsuit! (Just kidding. They'll be provided).
To add this adventure to your stag package, click here.
---
Go Karting
Everyone needs to let off a little steam at this go-karting track. Your adventurous stag party can join the Formula 1 and Moto GP drivers who have raced at this multi-million euro track.
To add go karting to your stag weekend, click here.
---
James Bond himself would be satisfied with this mix of stag activities. Your adrenaline junkie stags will love this unforgettable weekend!
-Cheers!
Travel Bar
Planning a wedding? Check out our blog posts on Barcelona's photographers, wedding venues, some proposal ideas, and more! Planning the stag party? We specialize in hen and stag parties in Barcelona, so be sure to look at our recommendations for hen and stag activities here and here.
Anna Shoffner is a staff writer for Travel Bar, the Barcelona company that specializes in hen and stag weekends, offering Barcelona's best tours and experiences. To see Travel Bar's hen packages, tours, and activities, visit us at www.travelbar.com.