Top 9 Barcelona Stag Party Activities
Posted:
So here you are. You've been given the responsibility of planning an epic stag party. Can you handle the responsibility? Will you crack under the pressure? Will you forever be known as the guy who arranged the worst stag weekend in history?! You know the basics that'll please the guys–sunshine, drinks and some insane clubs. But don't forget, to make it truly special you guys will require some amazing stag party activities.
We're here to help. Travel Bar has our very own list of the best stag party activities. From classics like beer tasting and go karting, to unique Barcelona adventures such as a private castle poker night or the hilarious Spain Games, we are happy to plan your stag party for you. You can then take all the credit and go down as a stag planning legend! Read below for our very own top nine stag party activities in Barcelona.
Spain Games
Unique to Barcelona, this two-hour adventure is the hottest new activity Europe wide. Travel Bar staff will take you and your fellow stags to compete against each other in a variety of crazy games, including a wipeout machine, podium fighting, sumo wrestling and a giant slide. Transfers to and from the Barcelona city centre, as well as snacks, drinks, and beer are also all possible.
To get in on this wild afternoon, click here!
---
Beer Tasting
Here comes a classic stag party activity. This one includes excellent beer, a private bar, a cerveza expert and did we mention our sexy hostess?…
To give it a go, check out our website here.
---
FC Barcelona Tickets
Barcelona's football club is the biggest club team in the world–and we've got tickets! So spend an evening with the lads at one of the most famous football clubs in the world.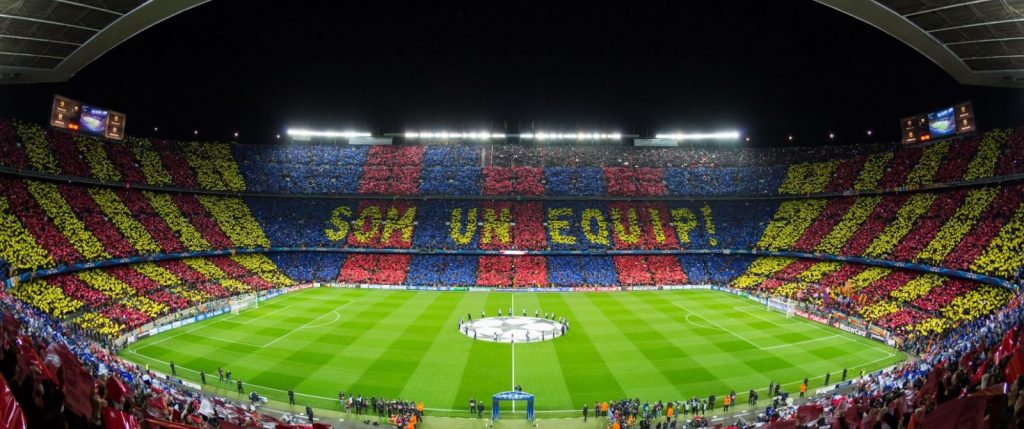 Get your tickets here.
---
Go Karting
Did you know that Barcelona is home to a multimillion-euro indoor go-karting track? Formula 1 and Moto GP drivers have race days there, and its been visited by the likes of Neymar and Shakira (for her own birthday party!).
Take the lads out for a spin!
To add go-karting to your Travel Bar stag package, click here.
---
Bubble Football
Playing football in giant inflatable bubbles. Could anything be better?
It's easy! To add bubble football to your package, click here.
---
Bicycle Tour
If you're coming to Barcelona for your stag party activities and fancy discovering some local knowledge, a cultural activity like a bicycle tour is imperative. Our two-hour bike tour features a knowledgeable guide and it's followed by a complimentary drink in a city centre bar!
To get your Barcelona bike on, click here.
---
Three-Course Steak Meal
This manly meal features three courses that start with tapas and features fine steak, as well as a round of beers to set you off. The dinner can also be followed by an extra special visitor, ask us about adding any extras!
To reserve, click here.
---
VIP Club Entry
For any send-off, this activity is a must with your stags. Live the high life and get a private table and bottles at one of the most famous clubs in Barcelona, such as Pacha, Shoko, Catwalk, Opium or CDLC. Once there and feeling like royalty, party the night away with your tags.
Did I mention we can arrange the whole evening for you and include a private bar tour before hand?
For your own VIP clubbing stag activity, click here.
---
Poker Night
Here at Travel Bar we have our own secret castle, unique in the whole of Europe, hidden just outside the city. We're happy to take our stag parties out there for a night of poker, food, and of course…ladies. We won't give too much away, but this 5 star activity is certainly a memorable one!
To add the poker night to your stag package, click here.
Our team love discussing the great activities we have in Barcelona for your stag do, so feel free to contact us with any questions here. In the meantime, follow our guidelines and we know your stag party is going to be epic! Click this link to send us an enquiry now.
Cheers,
Travel Bar
Travel Bar is the Barcelona company that specialises in hen and stag weekends, offering Barcelona's best tours and experiences. To see Travel Bar's stag packages, tours, and activities, visit us at www.travelbar.com.